February 8th, 2022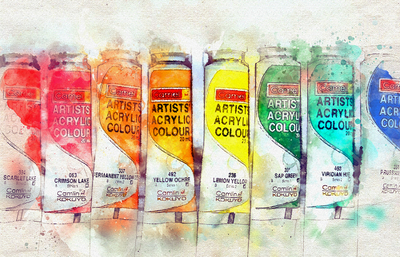 Buying art prints online is certainly fun, but can also be a bit intimidating. Below are five easy steps you can take beforehand to ensure success and enjoy your artwork for years to come.

1. If precise colors in a print are important to you, calibrate your monitor's colors so you see the colors accurately. Professional artists work with color calibrated monitors so what they see on screen shows exactly how the colors in an artwork will print. Calibrating your own monitor will allow you to see colors the same way the artist who created the artwork did. Instructions for color calibration are easily found online for most brands of monitors.

2. Always measure your space, never just eyeball it for size. An easy way to see if a print of a particular size will fit and look good where you intend to hang it is to cut out a sheet of paper or cardboard the exact size of the mounted artwork and hold it to the wall where you want to place it. If you are purchasing a large artwork, you can tape newspaper or disassembled paper grocery bags together to make a larger template cut to the exact size of the piece.

3. Artists often provide a room mock up of their art hanging on a wall so you can see how the piece will look framed; however, you should never use a mock up to determine the size of art unless the artist has also included precise measurements in the mock up example. Without these measurements you cannot accurately judge how the art will fit or look in your own space because you won't know the size of the room or of the art's surroundings in the example the artist provided, or even if the artwork presented is exactly the same size as the one you intend to purchase unless that is clearly stated to be the case.

4. When purchasing an unframed print you intend to frame yourself, keep in mind that matting and framing can add considerably to the artwork's dimensions. Larger prints will generally require wider mats and frames to maintain good proportion to the artwork. To estimate the size of the finished framed piece, add the width of the mat and frame together then multiply the sum by two. Add the number you get to the dimensions of both the height and width of the unframed artwork to estimate the size of the finished framed piece.

5. Most artists can provide their art printed on several different substrates or choices of framing options. It's important to consider where you intend to hang your art when choosing the best substrate for the location. For example, if you are hanging art in a humid environment like a small bathroom or covered porch, a metal print would likely be your best choice. If you are hanging art in a room like a kitchen that tends to have a lot of particulates in the air, a framed print under glass or gallery grade acrylic would be best protected from its surrounding environment.

Bonus Art Placement Tip: NEVER hang artwork in direct sunlight. Even archival ink and pigments will fade in direct sun. To preserve your artwork's longevity carefully observe where the sun falls throughout the day before choosing the best place in which to hang it.

Observing these easy steps will help to ensure a successful and hassle free art print purchase and will go a long way to eliminating the most commonly arrising issues I see as a professional artist when clients endeavor to purchase a print online. Now go pour a glass of wine, sit in a comfy chair and enjoy that art!